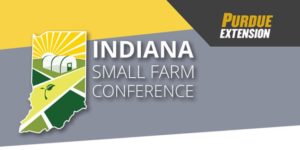 he 2020 Indiana SFC is coming March 5-7, 2020, in Danville, Indiana. We are now accepting proposals for oral presentations, workshops, tours and posters. The deadline to submit is Friday, August 30, 2019. Attendees are interested in practical knowledge that can be applied to their operations to increase the environmental sustainability and economic viability of their businesses.
This is the premier conference in Indiana where small farmers of all kinds have opportunities to network with fellow Indiana farmers and learn about advancements relevant to their operations, this is what makes the Indiana SFC special. We hope you'll consider submitting a proposal to present next year and share your knowledge, passion, and innovation with others!
This is an open call to farmers, educators, researchers, and other agricultural professionals or stakeholders in the small-farm space. Vegetable production, livestock (grazed, urban, etc.), food safety, marketing, value-added products, farm viability and land access are all topics of interest to attendees. If you would like to share about strategies that have been successful on your farm, we want to hear from you! Farmer to farmer knowledge sharing is something we pride ourselves in.
All proposals should cover:
Timely, practical farming content
Best practices
Successes and failures, and / or
Research relevant to the small-scale and diversified farming community
The link below includes detailed information about the proposal process and our session / workshop formats. Please read all of this information prior to submitting your proposal; our planning committee treats completed applications as confirmation that you have read, understood, and agreed to this information.
Questions? Contact Laura Ingwell at lingwell@purdue.edu or (765) 494-6167.