Dear Indiana Horticulture Society Member,
We as a society have some decisions to make and I feel that these could really make us stronger as a whole.
During our wrap up meeting at this years Hort Conference, there were many views and ideas shared with the group. The general consensus was that this organization does want to continue to function. We don't want to exist just for the sake of existing.  We need direction, purpose, and to be the voice of our industry in the State of Indiana.
Since Hort Conference, I have thought long and hard about the examples of leadership from past members going all the way back to the founding of the Indiana Hort Society in 1860. Our past has been great and I want that for our future too. For a while this Society and its leadership positions have been mostly symbolic and this needs to change. Purdue University has been instrumental to the success of our organization through their Admin and IT support, hosting and setting up meeting venues, as well as planning the meetings. We the leadership and members need to be more proactive instead of relying solely on Purdue to keep us going. Looking through past records, meeting minutes, and letters there were activities we used to do, active committees and other things that are no longer done.
We need to right this ship and set a new course! In order to achieve these goals, we need more participation, camaraderie and bonds of fellowship.
The following Committees have open positions and are needing to be filled. If one or more of these are calling to you, please let me know. My contact info will be listed below.
Nominating Committee
Memorial Committee
Legislative Committee
Audit Committee
Research Committee
The board would like to propose bringing back the Twilight meetings, possibly twice per year, once in the spring and once in late fall after harvest. I don't know how long it has been since the last one, but these were always a valuable asset to the group before the growing season kicked off in full swing. We will have a topic or two of discussion for the meeting followed by refreshments. Traditionally these were regional meetings held around the state, but with fewer growers now I think we could treat these like a short summer meeting with or without the tour. The first twilight meeting will be this spring possibly the first Saturday of May. Details such as date, location, and topics to be discussed will follow at a later date. By adding two additional meetings per year, we hope to accomplish the goals outlined above.
Since the summer meeting location has not been determined, please contact me directly if you are interested in hosting. Another opportunity has presented itself and I think it deserves attention.  I had a lengthy conversation with John Young, President of the Indiana Vegetable Growers Association (IVGA), last week and the following was the topic of that call. Some of these could be a solution if combined.
Should we combine forces/resources with the IVGA?
Should this be a new entity, such as the Indiana Fruit & Vegetable Growers Association? (IFVGA)
Should we as the Indiana Hort Society change our name to the Indiana Fruit Growers Association (IFGA) to better reflect our Mission?
Should each group maintain their own identity but work more closely for meetings such as Hort Congress, and larger issues like Government regulations that impact our industry as a whole?
If organizations combined how would dues be split? I think maintaining our own dues and books should continue so we can direct funds to appropriate locations, Return Bloom Fund, MAIA, US Apple, memorials etc.… Then using some of those funds for joint meeting costs
Could the Indiana Hort Society exist as an umbrella organization to (IFGA), (IVGA) or (IFVGA) and include the other horticulturally related organizations in this state (turf, mint, Christmas trees, hemp, landscape, etc.)? Hort is a very broad term. I could be out in the giggle weeds on this but the question remains.
There is much to consider. These are not the only options by any means, but let's get the ball rolling. Many of us are members of both organizations anyway. IVGA also just merged with the Indiana Melon Growers Association. There are several younger producers in both groups and this is great! Harnessing that energy to promote our products in this state would be advantageous. Could we create a Fruit and/or Veggie Trail in the state? Anything is possible and the road could lead anywhere, but the fact remains if we aren't willing to decide who we are and what we want to be it doesn't matter. Using this opportunity to strengthen both groups and to work together to make our voices heard at the state level would be in the best interest of both groups.
What am I missing that needs to be addressed? I am looking forward to a flood of phone calls and emails!
The board has been working on a list of survey questions and comments to garner feedback. Your opinion is very important and you can find the survey here https://purdue.ca1.qualtrics.com/jfe/form/SV_8w85x7wX5Yqpsjk or by scanning the QR code below with your smart phone. If you have any problems, please feel free to contact Lori Jolly-Brown at 765-494-1296 or ljollybr@purdue.edu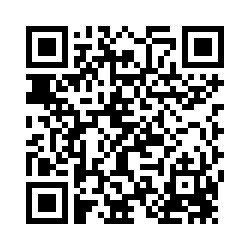 In Kind Regards,
Matthew S. Chandler
Indiana Hort Society President
Chandler's Orchard & Country Market
chandlersfarmmarket@icloud.com